Ref:
Date:
Location:
Photographer:
Ref:
Date:
Location:
Photographer:
"ARTWORKS" Annual Exhibition: the collection.
04/09/17
I've produced several abstracted responses to colours that made a deep impression on me during a visit to the Isle of Mull.
Massive piles of red seaweed left stranded at low tide were beginning to dry out in the bright May sunshine The colours ranged from deep mulberry to this brightest of oranges which I felt I wanted to catch and play with. It was the power of the colour's impact I wanted to share, and maybe a sense of those wonderful rock pools some beaches offer.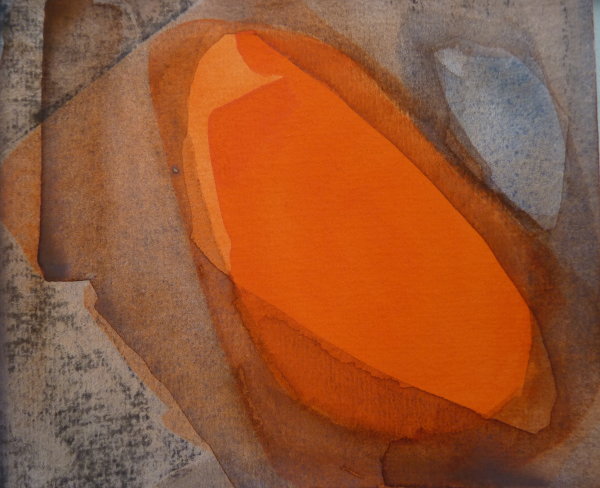 The pieces entitled 'Blue Intensity' are my response to an event on Mull which took me by surprise. The weather was unusually sunny for 2 weeks, and as each day progressed, I watched entire mountainsides gradually fill with blue. Not just shady woodlands but right across exposed sunny acres - bluebells!! Living in Suffolk I had not realised that bluebells would thrive out in the open on exposed mountainsides. It was an entrancing sight and I wanted to express my delight at being surrounded by so much deep blue.
A number of framed watercolours follow my usual style of simple translucent layering of pigments to create the composition, and will please the viewer looking for something more identifiable by way of subject matter. 'Serene Day" is one such painting.